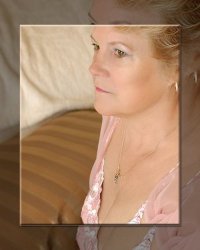 A Bit about……
BISHOP EVELYNN MAURINE
Love Elder, Metaphysical Minister, Sensual Sage, Wise Older Woman
founder of The Temple at Sacred Haven
With the blessings of those who love her, EveLynn honors a calling to catalyze healing and facilitate others in reclaiming Spiritual and Sensual gifts so innate in each of us;  gifts which have been repressed by teachings so full of guilt and shame –Spiritual and Sensual gifts that are our birthright.
Spirituality for Evelynn is the expansion of the God Concept which transcends Patriarchal religion and honors Divine Feminine as well as Divine Masculine and celebrates ALL life and ALL Universal Laws.
Sensuality for her is an expression of wholeness which incorporates Body and Spirit into relationship with the Mind.
In our world of technical concentration,  we have strayed into putting the Mind at the forefront when determining the essence of our full potential; when in truth, the Mind is meant to be the implementer of the creative manifestation of Body and Spirit.
She uses the elements of intuitive metaphysical life coaching,  erotic education, shamanic initiation ceremony, meditation, and sacred breath along with other spiritual traditions  to facilitate healing and relaxation which presents itself as pure bliss.
Bishop EveLynn is a single grandmother who recognized very early in life that she had a special and mystical calling.  Having accumulated an abundance of learning and loving experiences in this lifetime,  she understands what it means to be on a path toward enlightenment and that it is not always an easy road to travel.
Now , in her  wise-older-woman  years, she marries her early calling to an abundance of experience and treasure chest of Sacred Teachings.  This Sacred Union has created  a collection of wisdom, loving intent, and insightful understanding to all who seek her counsel.   With loving intent, she approaches her mentoring approach in an eclectic spiritual style, that provides those she counsels and mentors a unique opportunity to find their own truths in their own way.
Early in 1999, EveLynn founded The Awakening Body, a unique private Sensual Healing practice. Her teachings incorporate sacred touch, sensual awareness, conscious breathing, relaxation and a blending of energies into a truly healing experience.  Soon after, she founded the spiritual organization, The Temple at Sacred Haven, A Sanctuary for the Senses.  The Temple was incorporated as a non-profit organization in 2001.   At that time, EveLynn expanded her spiritual leadership as an ordained Minister through the Madonna Ministries. In January of 2005 her ministerial status was elevated to Bishop.
In 2006, Bishop EveLynn received her Bachelor of Metaphysical Science degree and Metaphysical Practitioner Certification through the University of Metaphysics.  At that time she was also ordained as Metaphysical Minister  through the International Metaphysical Ministry.   She has completed the Master of Metaphysics level and is embarking upon a Doctorate in Holistic Life Coaching.
In 2016, EveLynn completed her apprenticeship as a Shamanic Priestess Process Facilitator, following in the footsteps of Anyaa McAndrew  and her mentor, Nicole Christine.  She also completed the Shamanic Magdalene Mysteries process in early 2016 to become a Magdalene High Priestess.
EveLynn has come into this lifetime to encourage, and to be encouraged without judgment and with loving intention.
Through her work she touches others and teaches them to touch others.
And that is as it should be.
EveLynn is qualified and available to perform all manner of spiritual ceremony and consulting including:
Weddings – Handfastings – Commitment  and Relationship Renewal Ceremonies
Holistic Hospice, Grief Counseling and Memorial Services
Relationship and Family Counseling
Holistic Life Coaching and Spiritual Guidance
Erotic Education and Intimacy Coaching for Aging Adults
Public Speaker for small or community events
Co-Creating and Fostering Red Tent Gatherings for Women
For more information about EveLynn and the Sacred Haven offerings please contact us