The Temple at Sacred Haven, A Sanctuary for the Senses,  was founded in the first year of the new millennium by Bishop EveLynn Maurine as the spiritual  extension of her holistic healing practice.  Sacred Haven formally became a not-for-profit religious organization in 2001.
The stated purpose within the articles of incorporation for Sacred Haven are
"The Corporation is organized exclusively for Religious and Educational purposes within the meaning of Section 501 (C) (3) and the Religious Organization exemption section of the Internal Revenue Code.  The specific purpose of the Corporation is to provide a sanctuary and meeting place to study, discuss, and practice a variety of Spiritual Philosophies and foster the re-integration of the Sensual Self into the Spiritual Self.  The Corporation seeks to aid individuals, couples and families in contacting and expressing the divinity that is inherent within each of us."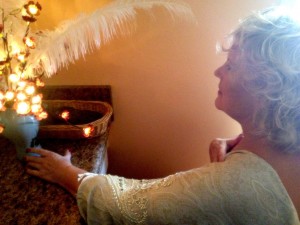 Although the current physical location of Sacred Haven and EveLynn's personal sanctuary  is located in Tampa Bay, Florida; the essence of  Sacred Haven resides specifically in the hearts of those who are of like mind and in harmony with the organizational intent.  Visitors to Sacred Haven  experience a sacred, safe  and relaxing atmosphere for private consultations as well as  workshops and gatherings.  All Sacred Haven experiences are intended to enhance access the deep inner workings of Self in a safe and honoring environment.
For additional information about Sacred Haven,  please contact us.